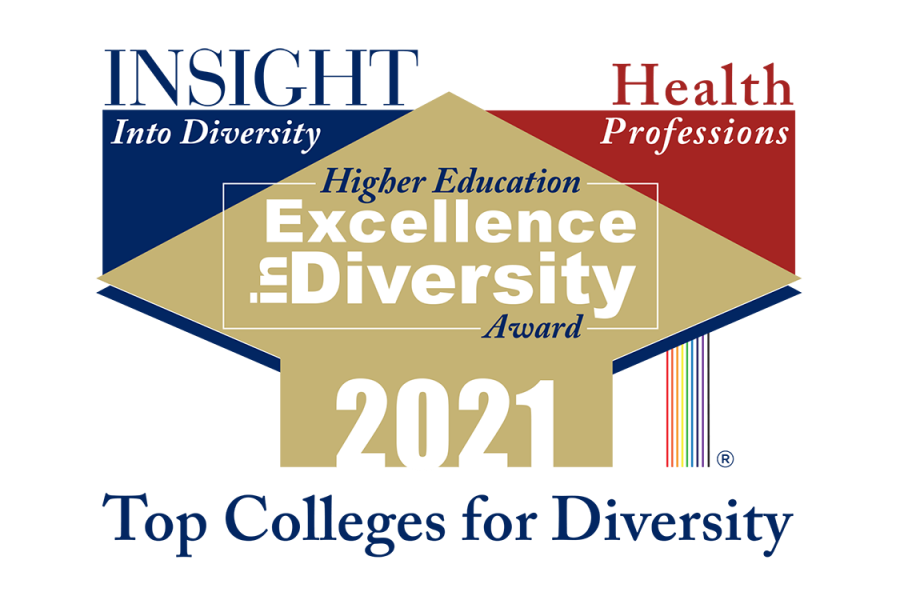 Commitment to Inclusive Excellence
The School of Nursing actively fosters an environment of inclusive excellence that welcomes diversity among its students, faculty, and staff. Awareness of diversity and promotion of inclusivity is central to our curricula, social and educational events, and resources and services.
We embrace a definition of diversity that acknowledges the intersection of multiple factors, perspectives, and identities, which include but are not limited to: race, ethnicity, gender identity, sexual orientation, socioeconomic status, nationality, religion, age, and physical characteristics.
In 2021 the School received an Insight Into Diversity magazine's Health Professions HEED (Higher Education Excellence in Diversity) Awards.
Our tradition of integrated research and practice focuses on the needs of those whose health status or social condition leaves them vulnerable or places them at risk. Our collaborative innovations increase the diversity of participation in healthcare research, promote sharing of diverse interprofessional perspectives, provide tools to support those working with vulnerable populations, and enhance community engagement.
A Tradition of Integrated Research and Practice
STREAM is designed to help Native American students attain their goal of becoming professional nurses. STREAM students receive peer support and mentorship as well as academic and financial support.
Join our interprofessional community for a series of free workshops and conversations focused on topics related to equity, diversity and inclusion that deeply impact our work and our practice. The series meets online, and registration is required for each workshop.
Understanding diversity is an ongoing process that involves lifelong learning, and we believe that this continued learning is crucial to improving health, ensuring equity, and providing a positive, supportive climate in which all individuals are welcome.
Resources for Students & Educators
A collection of downloadable and web-based articles and resources to help understand and teach about diversity issues in nursing. We can help connect you with other resources that you need.
This is an accordion element with a series of buttons that open and close related content panels.
Diversity and Inclusion in Our Curriculum
School of Nursing courses with a social justice focus include 510, 437, and 702.
Diversity and Inclusion for Faculty Development
The Inclusive Excellence in Nursing Certificate for Faculty and Staff is forthcoming. More details available Fall 2019.
Lawton Undergraduate Minority Retention Grant
The Lawton Grant was established to increase the retention and graduation rates of underrepresented students and reduce their loan indebtedness post-graduation. The award can range from $1,000 to $3,000 per academic year, with a maximum of 8 semesters of eligibility.
Multicultural Student Nurse Organization
The Multicultural Student Nurse Organization (MSNO) is a student-founded and -directed organization dedicated to improving students of color's experiences, expertise, and preparedness for succeeding in nursing curriculum and professions and for caring for patients of all backgrounds across care settings.
People Program at SoN
The School of Nursing works with the PEOPLE (Pre-College Enrichment Opportunity Program for Learning Excellence) each summer by participating in a health care high school internship and a middle school nursing career exploration workshop. PEOPLE High School and Middle School students learn the roles nurses play through clinical internships, simulation labs, field trips, and interactive activities.
PRIDE in Healthcare
PRIDE in Healthcare is an interdisciplinary health sciences student organization dedicated to improving the healthcare conditions for lesbian, gay, bisexual, trans, queer, and other sexual orientation and/or gender identity minority (LGBTQ+) people. Nurses as well as nursing students, faculty and staff can play an important role in advancing health for the LGBTQ+ community as healthcare providers and patient advocates.
STREAM Program for Native American Nursing Students
More Campus Resources
Student-focused
AHANA (African, Hispanic, Asian, and Native American)-MAPS Pre-Health Society is a student organization to help achieve a well-rounded perspective of the healthcare field, enriching experiences, and community service opportunities.
The Gender and Sexuality Campus Center: Supporting LGBTQ+ students and their communities is a unit of the Division of Student Life
The Multicultural Student Center strengthens and sustains an inclusive campus.
Research-focused