It is my pleasure to welcome you to the University of Wisconsin–Madison School of Nursing! Whether you are considering nursing as a career, advancing your education in practice or research, or exploring employment with us, the University of Wisconsin–Madison School of Nursing is a great place to be. We are committed to building a culture of health in Wisconsin and beyond.
The School of Nursing is housed in Signe Skott Cooper Hall, a $53 million LEED Silver educational facility on an expansive health sciences campus. With high-fidelity simulation labs, 25 research suites, an active-learning classroom complex, exercise spaces and an accessible auditorium, Cooper Hall showcases the power, impact and future of nursing.
What's the difference between UW–Madison's School of Nursing and other institutions? From the facilities to the community partnerships and policy opportunities, find out some of the things that make us unique.
Founded in 1924 as the first collegiate nursing program in Wisconsin, the School of Nursing serves nurses statewide throughout their careers. Our history demonstrates our commitment to health and wellness for all, as well as to the profession and professional education.
The Board of Visitors of the University of Wisconsin–Madison School of Nursing is a group of leaders from the health care and business communities who provide strategic guidance to the school.
9
Program & certificate options
Leaders in Research, Education, and Practice
The University of Wisconsin–Madison School of Nursing is the leading nursing research institution in Wisconsin and a crucial part of the state's health care system.  Situated in the health sciences sector of campus with the School of Medicine and Public Health and the School of Pharmacy, the School of Nursing collaborates with scientists and renowned researchers across the UW–Madison campus, the nation, and the world. 
Translational in nature and grounded in practical application, research at the School of Nursing has an immediate impact on Wisconsin's communities, hospitals, clinics, schools, and homes.
Academics
The school has an enrollment of more than 1,000 students and offers the Bachelor of Science in Nursing (BSN), Doctor of Nursing Practice (DNP), and Doctor of Philosophy in Nursing (PhD) degrees, as well as continuing education and four certificate programs.
Accreditation
The baccalaureate degree in nursing and the Doctor of Nursing Practice program at UW–Madison are accredited by the Commission on Collegiate Nursing Education.
The University
UW–Madison, founded in 1849, is one of the nation's largest and most comprehensive research universities. It is comprised of 13 schools and colleges that offer 232 undergraduate majors and certificates, as well as 250-plus master's doctoral, and professional degree programs.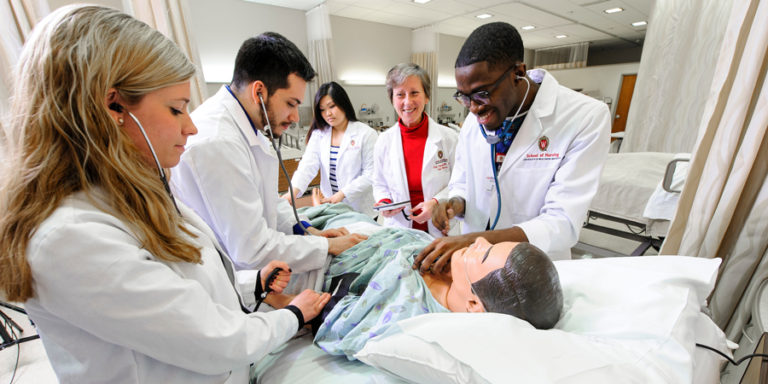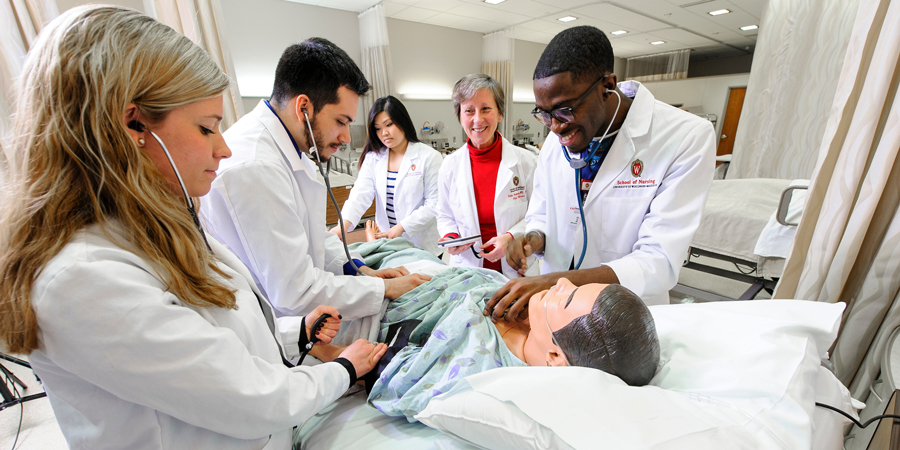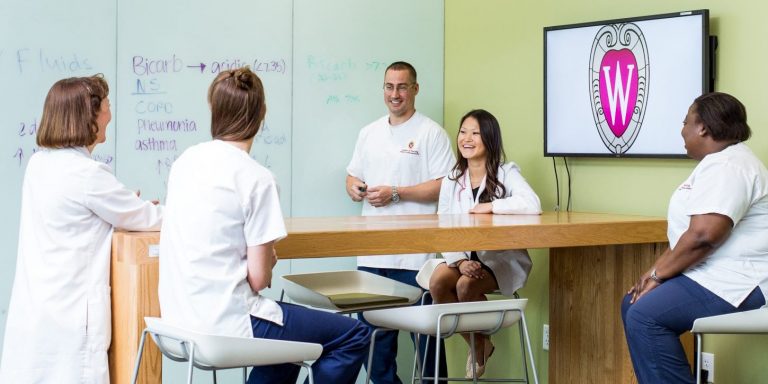 The Wisconsin Idea is one of the longest and deepest traditions surrounding the University of Wisconsin and signifies that education should influence people's lives beyond the boundaries of the classroom.
The Wisconsin Experience, much like the Wisconsin Idea, sets us apart. While the Wisconsin Idea is about our students giving back, the Wisconsin Experience is how we, as a university, give back to our students.
Guiding Principles
Our mission is to develop leaders for the profession and society—we make discoveries, enhance systems, and improve health through research, education and practice.
Our vision is to be a preeminent School of Nursing that assures health for all through leadership, innovation, and collaboration in research, education, and practice.
Our values
This is an accordion element with a series of buttons that open and close related content panels.
Rigorous Inquiry
Promote the highest standards of intellectual inquiry and rigor, in keeping with the University's proven commitment to the "continual sifting and winnowing by which alone the truth can be found."
Support for Lifelong Learning
We support learning for its own sake, throughout our lives, as service to the greater good.
Intellectual Freedom and Responsibility
We defend intellectual freedom and combine it with responsibility and civility so that all who work and live on our campus can question, criticize, teach, learn, create and grow.
Acting with Integrity
We observe the highest ethical integrity in everything we do.
Honoring and Learning From Diversity
We believe in the importance of working with and learning from those whose backgrounds and views differ from our own.
Eliminating Barriers to Participation
We share the belief that neither origin nor economic circumstance should be barriers to participation in our community.
Recognition and Stewardship of Resources
We are committed to being responsible stewards of our human, intellectual, cultural, financial, and environmental resources.
Making the World Better
We promote the application of research and teaching to issues of importance to the state, the nation, and the world, and we place learning and discovery in the service of political, economic, social, health, and cultural progress.
Summary of Our Strategic Plan
The School of Nursing actively fosters an environment that welcomes diversity among its students, faculty, and staff. Awareness of diversity and promotion of inclusivity is infused into our curricula, social and educational events, and resources and services.
Our tradition of integrated research and practice focuses on the needs of those whose health status or social condition leaves them vulnerable or places them at risk. Our collaborative innovations increase the diversity of participation in healthcare research, promote sharing of diverse interprofessional perspectives, provide tools to support those working with vulnerable populations, and enhance community engagement.