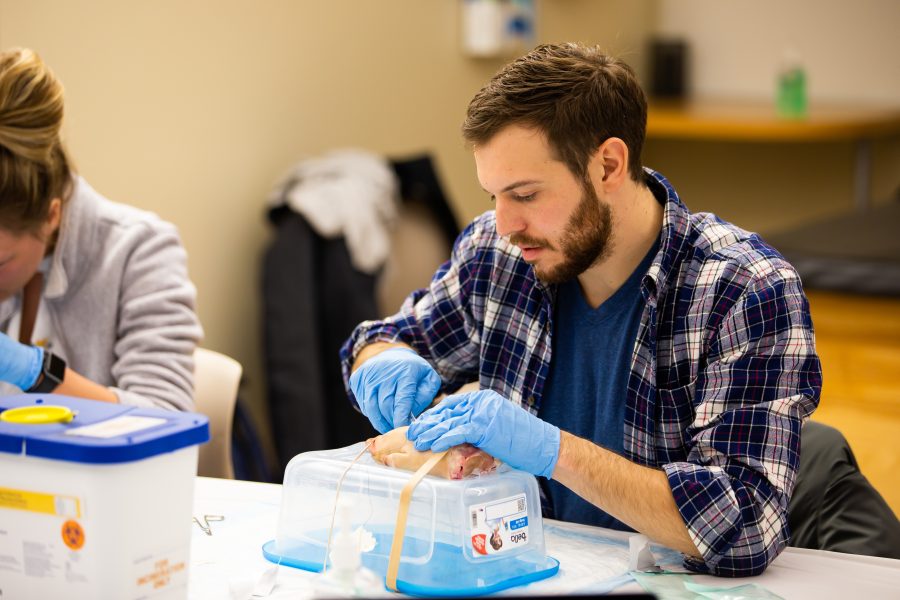 Our Graduate Programs
At UW–Madison, we strive to improve nursing practices, patient health, and healthcare system operations by advancing the full spectrum of nursing science from inquiry and discovery through translation and, ultimately, implementation and assessment. Our faculty members work closely with students in our two doctoral programs to craft personalized educational experiences that emphasize leadership development and position graduates for continuous advancement along individualized career trajectories in both academia (PhD) and clinical practice (DNP).
Application opens: Early September
Deadline: December 1
Notification: March/April
More Options for Advanced Study
Unlimited Opportunity for Leadership and Impact
The UW–Madison School of Nursing provided me the experience to conduct interdisciplinary research with scholars from different areas that could build from nursing research questions. This allowed me to conduct a dissertation study that involves nursing, neuroscience, and sleep medicine.

Chooza Moon PhD '16
Two Doctoral Programs
The 52-credit PhD program includes core courses in Scholarly Inquiry, Theory and Practice of Nursing, Policy and Leadership, and Nursing Education. The core is supplemented through intentional and collaborative coursework outside of nursing, and guided research experiences.
The Doctor of Philosophy degree prepares scholars for research and academic careers in public or private sectors of health care. Students evaluate nursing scientific findings and apply them to clinical settings for improved health care outcomes. Graduates are positioned to translate evidence into practice with diverse populations, inform health care policy, and implement and evaluate clinical programs.
Under the advisement of Lisa Bratzke '88, MS'92, PhD, RN, ANP-BC, FAHA, Nicole Thomas is using her PhD program to develop research in the burgeoning field of epigenetics and the intergenerational transmission of trauma.

One of the first seven nursing students to join the School of Nursing's early-entry PhD program, Melanie Krause has made a career in long-term health care systems. In her current role, she is responsible for providing comprehensive services throughout the Department of Veterans Affairs Office of Inspector General.
The Doctor of Nursing Practice (DNP) prepares experts in specialized nursing practice. Core competencies in systematic evaluation of practice, leadership/policy, and clinical practice are developed through a combination of coursework, a scholarly project, and supervised clinical hours.
The Doctor of Nursing Practice degree prepares the highest level of nursing practice scholars who will translate evidence into practice. Students conduct and disseminate independent research and participate as interdisciplinary researchers who respond to regional, national, and international priorities. Graduates advance the nursing discipline and practice through research, education, and health policy.
Andrew O'Donnell is currently working on the front lines of COVID-19 as the interim co-manager of the Trauma Life Support Center at UW Health, supporting a staff of 120 employees, including 90 ICU nurses.

A partnership between the Monroe Clinic-SSM Health and the UW–Madison School of Nursing provides DNP students opportunities to engage in rural practice, and many return to it.
Leaders in Research & Practice
As a top-tier research institution, we are committed to advancing nursing science. Researchers in our doctoral PhD program use both qualitative and quantitative methods in their efforts to broaden and deepen nursing knowledge across the lifespan of care—from pediatrics through family care to aging populations and end-of-life.

PhD Program (Research)
The DNP, a doctoral-level advanced practice degree, prepares our students to employ critical thinking and evidence-based practice in their work and to position them as leaders capable of facilitating organizational change that leads to better patient care, improved operations, and greater nursing workforce satisfaction and efficacy.

DNP Program (Practice)