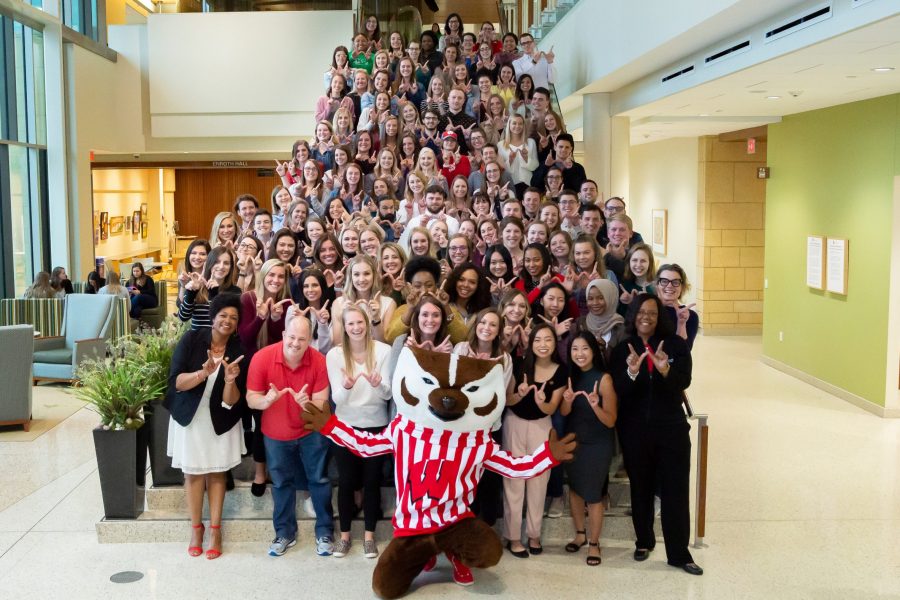 About the NAO
The NAO links the UW–Madison School of Nursing and its alumni. Signature events and programs include the annual homecoming tailgate and alumni awards; fall career fair; student scholarships; and the graduation celebration and pinning awards.
An independent 501(c)3, NAO promotes fellowship and recognition among alumni; cooperates with the School in advancing its programs; aids the school in furthering high standards of professional nursing education and practice; and assists students in various ways, including scholarships and awards recognizing academic achievement and/or financial need.
The NAO was founded in 1927 shortly after the first class graduated from the School of Nursing. All alumni of the School of Nursing are members, whether they have earned a certificate, a bachelor's degree, or an advanced degree in nursing. Current and emeriti faculty are also members.
Current NAO board
Thanks to current NAO board members: Taylor Hayes (president); Ashley Rusch (vice president); Dana Hendricks (secretary);  Sarah Krueger (treasurer); Judy Aubey; Rachel Azanleko-Akouete; Pat Lasky; Cara MacKenzie; Emily Schumacher; and Andrea William.
The NAO board plays a crucial role in our School of Nursing community and provides a great way to stay involved. If you are interested in learning more about the NAO or becoming involved with the board, please email us.
The pin of the UW–Madison School of Nursing, designed in 1926, symbolizes a proud tradition of service. Each year, select pins are passed on from a past graduate to a new graduate as a sign of the recipient's achievement and future promise.
"I am sincerely humbled to be a Nurses Alumni Organization pin recipient and to be a part of this 92-year-old tradition. It is a privilege to be in the first UW–Madison accelerated BSN cohort, and this pin signifies what we all strive to be—extraordinary nurses."

Aniqueka Jamie Scott, BSN, '19