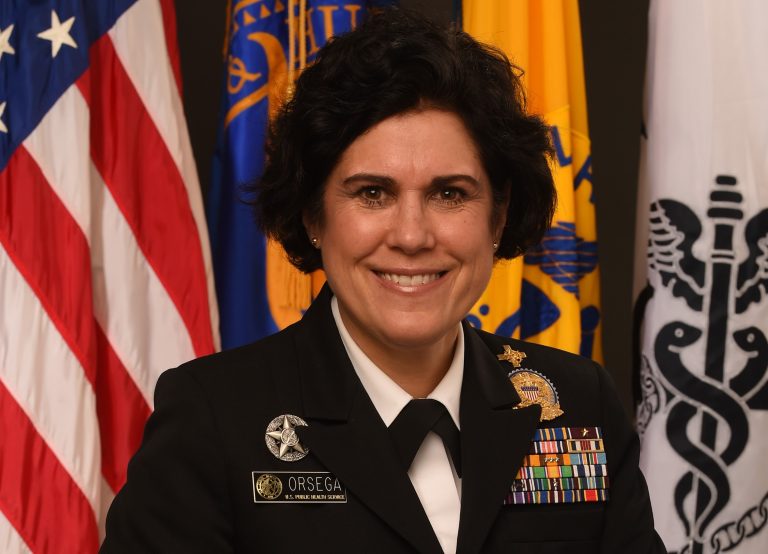 The 23rd Annual Littlefield Leadership Lecture
Rear Admiral (RADM) Susan Orsega is the Senior Advisor to the Assistant Secretary for Health and U.S. Surgeon General. Her career has included more than 30 years in the United States Public Health Service Commissioned Corps and included global assignments to provide operational management and public health guidance. She has led in circumstances as varied as international government transition to infectious disease outbreaks—and includes her service as Acting Surgeon General from January 26, 2021 to March 25, 2021.
RADM Orsega's presentation will highlight the role of nurse leadership in meeting local, national, and global health needs in complex environments. She will underscore the role of advocacy and leadership when and where needs exist.
Nurse Leadership in Complex Times and Environments      
November 2, 2022 5:00-6:15pm CDT, by Rear Admiral Susan M. Orsega.
The 2022 Littlefield Leadership Lecture is a free, live online event.
Access the livestream from this page on November 2.
Watch the 2021 Littlefield Leadership Lecture
About the Littlefield Leadership Lectures
Annual Littlefield lectures highlight nurse leaders and reflect the complexity of healthcare, changing and aging populations, scientific discoveries, innovations, and more. The lectures are valued by researchers, educators, practitioners, students, and members of the healthcare community and beyond.
Inspired and supported by the Friends of Littlefield, the Littlefield Leadership Lecture is named after Dean Emerita Vivian Littlefield, who led the UW–Madison School of Nursing from 1984 through 1999.
"Nurse Advocacy, Social Justice, and Health Equity: A Call to Action" live streamed on Oct. 20, 2021, with ANA President Dr. Ernest J. Grant, PhD, RN, FAAN.
"For more than two decades, Littlefield Leadership Lectures have reflected the limitless ways that nurses impact the profession and society. These annual talks are more than a valued tradition; they are an opportunity to celebrate the legacy of leadership that characterizes nursing."

Dr. Linda D. Scott, PhD, RN, NEA-BC, FNAP, FAAN, dean and professor, School of Nursing
Video Playlist of Past Lectures