Susan J. Zahner, DrPH, RN, FAAN
Associate Dean for Faculty Affairs and Vilas Distinguished Achievement Professor
608-263-5282
5226D Signe Skott Cooper Hall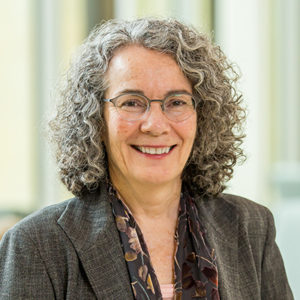 DrPH, University of California–Berkeley; Health Policy and Management
MPH, University of Minnesota; Public Health Nursing
BSN, University of Iowa; Nursing
Since joining the School of Nursing faculty in 2000, Dr. Zahner has focused on improving public health practice through research and workforce development. Dr. Zahner's research focuses on improving the performance of local public health systems to achieve population health improvement within communities. Recent studies have examined inter-organizational collaborative strategies in local public health and between primary care and public health organizations. Her research also includes public health nursing practice improvement; public health workforce development; and evaluation of continuing education approaches for public health professionals.
Dr. Zahner initiated, and continues to direct the Wisconsin Public Health Research Network. This virtual organization links public health practitioners and public health researchers across the state to facilitate practice-relevant research.
An affiliate faculty member with the UW School of Medicine and Public Health, she also serves on the MPH Steering Committee and the Executive Committee of the UW Population Health Institute.
Inducted into the American Academy of Nursing in 2013, Dr. Zahner is an active member of the Academy's Expert Panel on Environmental and Public Health.
Since 2014, Zahner has served as an Associate Dean with the School of Nursing, providing leadership and oversight to faculty affairs and infrastructure units of the school.
Research focus area
Health Systems & Public Health
Learn more about Dr. Zahner's research