MJ Joseph
Position title: Student Ambassador
Address:
Class of 2023, Traditional BSN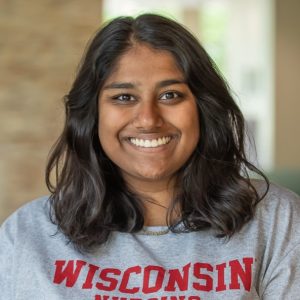 MJ Joseph chose the UW–Madison School of Nursing because of the culture the instructors, faculty, and peers foster to build an intimate learning environment. Her favorite part of nursing school is the community, which has played an instrumental role in shaping the leader she is today.
Following her graduation this spring, Joseph hopes to work on an emergency or intensive care unit (ICU) nursing. Then, in a few years, she hopes to return to UW–Madison to further her education and earn a doctorate in nursing practice (DNP) in acute care.
Outside of the classroom, Joseph loves staying involved on campus. She is an active member of the Health Occupations Students of America (HOSA) and Student Nursing Association (SNA). She also plays intramural soccer and has a black belt in Taekwondo.
Joseph became a student ambassador to provide support and advocate for her peers. She hopes her involvement will make an impact on the future generation of Badger nurses.