Karl Hummel
Position title: Student Ambassador
Address:
Class of 2023, Traditional BSN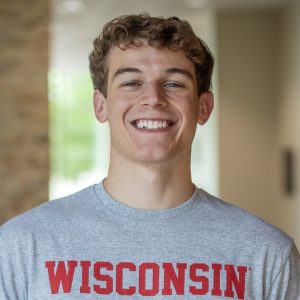 After graduating in 2021 from UW–Madison's College of Letters & Science with a bachelor's degree in psychology, Karl Hummel returned to the School of Nursing to pursue a degree in nursing. Hummel most enjoys the interactive education that allows him to practice a variety of valuable skills, particularly during the simulation labs.
After graduating from nursing school this year, Hummel intends to work on a cardiovascular intensive care unit (ICU) prior to applying for nurse anesthesia programs. As an aspiring nurse anesthetist, he would advise anyone who is considering nursing to be patient and focused.
After class, Hummel is training with the UW Triathlon team, or learning more about cardiology from the student organization Cardiac on Campus. On the weekends, Hummel loves Jumping Around during the third quarter of Badger Football games at Camp Randall.