Danielle Harris
Position title: Student Ambassador
Address:
Class of 2023, Traditional BSN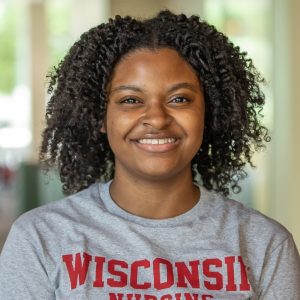 Danielle Harris chose the UW–Madison School of Nursing for its focus on innovation, leadership in nursing, concept-based curriculum, and endless support for all students.
Inspired by the ambassadors before her, Harris values the peer advising aspect of being an ambassador the most, and she is enthusiastic about supporting all potential and current nursing students.
In addition to being an ambassador, Harris is the president of the Multicultural Student Nursing Organization (MSNO), a student organization that is dedicated to improving students of color's experience within the nursing curriculum and advocating for culturally competent education for all nursing students.
Following her graduation this spring, Harris intends to work as a registered nurse with a postpartum or labor and delivery specialty. One piece of advice Harris could give to students considering nursing education would be to make connections and build a network of support as soon as possible.