Annaly Garcia
Position title: Student Ambassador
Address:
Class of 2023, Traditional BSN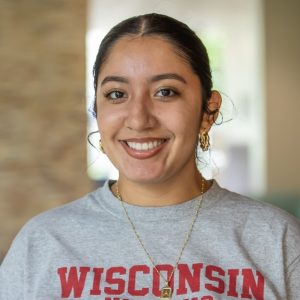 Annaly Garcia utilizes the ambassador program as a way to share her unique experiences with prospective and current nursing students. Her favorite part of being an ambassador is sharing the inspiration she feels from her campus involvement and community with others.
Garcia is also a member of the Multicultural Student Nurse Organization (MSNO) and an active participant in Multicultural Student Center (MSC) events. Her favorite campus tradition is the MSC annual study jams that provide a fun way to study and connect with peers during stress-inducing midterm and final exam weeks.
Garcia chose the UW–Madison School of Nursing because of its excellent program, which continues to provide challenging experiences with rewarding results. One of her favorite memories in her nursing experience is her first injection during clinicals.
Outside of class, Garcia enjoys exploring different coffee shops in Madison or scrolling on social media to find new recipes to share to her "foodie" account.
After graduation this spring, Garcia hopes to travel the world and find a place to explore and expand her knowledge of nursing, specifically in women's health. While she found a path in nursing that she is passionate about pursuing, she would advise others to explore a variety of options.