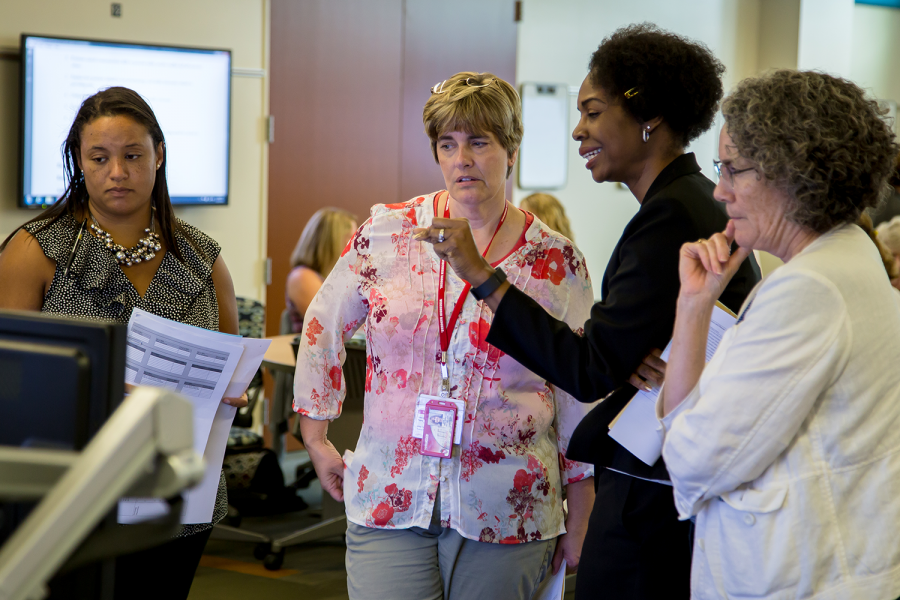 Research Areas at the UW–Madison School of Nursing
UW–Madison School of Nursing researchers are passionate investigators, taking innovative approaches, collaborating across disciplinary boundaries, and translating research into effective solutions. Research areas of particular strength and depth within the school include:
• Aging
• Chronic illness & symptom management
• Care of children & families
• Health systems & care delivery
Other areas of expertise include: Informatics; Health disparities; Acute care nurse decision-making; Workforce development; Mental health; Self-management; Women's health; Population health.
A Tradition of Translational Research
We believe that nursing is a powerful instrument for improving the human condition. Nursing practice informs our research, and we lead the way in connecting research back to practice so it has immediate impact. The integration of research and practice fosters the development of innovative products that improve care in schools, long-term care facilities, and other settings.
Dr. Barbara J. Bowers and her team aim to reduce staff attrition and elevate practice perceptions with Geri-Res, an online long-term care nurse residency program.
The UW–Madison School of Nursing RED Talks showcase the School in action. This video series provides an opportunity for faculty, staff, and students to share current initiatives aimed at improving health through research, education, and practice.
Research & Innovation
Presented October 6, 2020, the 21st Annual Littlefield Leadership Lecture is available to watch online. The event features associate dean for research and Charlotte Jane and Ralph A. Rodefer chair, Dr. Barbara Bowers, PhD, RN, FAAN, joined by Dr. Robyn I. Stone, DrPH, senior vice president of research with LeadingAge, and co-director of the LeadingAge LTSS Center at UMass Boston.
We research new and better ways to deliver health care, improve health, and achieve positive outcomes.

Linda D. Scott, PhD, RN, NEA-BC, FNAP, FAAN, Dean and Professor, UW–Madison School of Nursing
Research Partnerships
Collaboration allows us to apply multiple lenses to cross-cutting issues, conduct studies in clinical settings, and facilitate the translation of research into evidence-based practice. In addition to partnering with community leaders and organizations, we engage in interprofessional research partnerships with colleagues in a wide range of fields, from industrial engineering to social work.
Resources for Researchers
Nursing Research & Sponsored Programs
The NRSP Office at the School of Nursing is dedicated to supporting research through an array of services. Under the leadership of the associate dean for research, statisticians and other qualified staff members of the research management team provide expert assistance to graduate students, faculty, and staff in identifying funding opportunities, developing grant proposals, submitting grant proposals and contracts, and managing post-award processes.
Staff members provide expertise in federal, state, and private funding mechanisms, offer assistance in research subject recruitment, and serve as liaisons between the university's central research offices and School of Nursing researchers. The NRSP Office also provides online grant preparation resources for School of Nursing researchers.
Researchers examining and incorporating issues of diversity also have access to consulting and other resources through the Director of Diversity Initiatives.
Research Design & Statistics Unit
The RDSU within the NRSP Office provides consultation and support around issues of research design, data analysis, and manuscript preparation. Statisticians are available to provide support for both faculty and graduate students as they prepare and implement their research proposals. The RDSU offers online training in statistical software packages commonly used by School of Nursing researchers. It also offers access to a variety of specialized data, data analysis methods, and methodological papers.