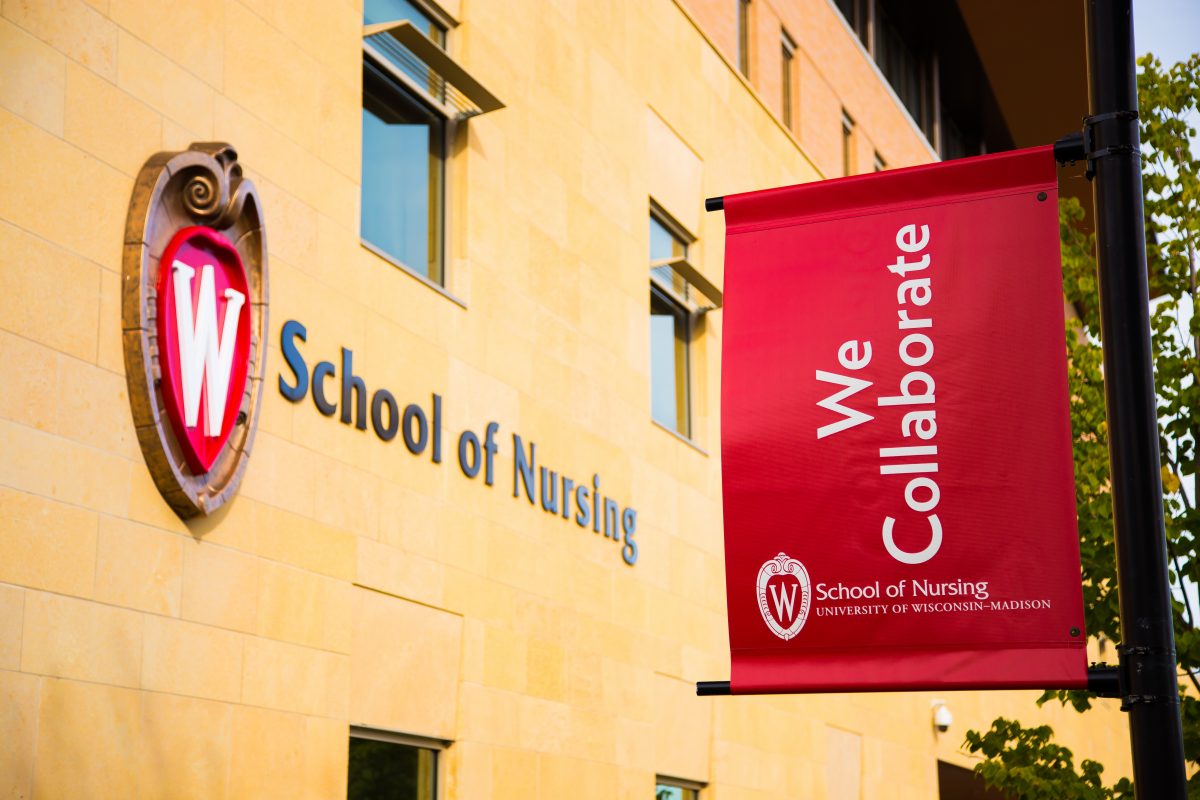 News Coverage of the School of Nursing
"We are excited for the opportunity to collaborate with the Respite Care Association of Wisconsin to develop a sustainable system for assessing the ongoing respite needs across the State. Building this important infrastructure will help us better support family caregivers and promote access to high quality respite services." — Dr. Kim Whitmore, assistant professor, UW–Madison School of Nursing
On collecting stories from healthcare providers working during the pandemic: "[A friend] was just talking about working on a COVID unit, and I realized that we really need to be capturing these experiences because we're going to forget about them…and we can actually fix the system." — Jessica Rainbow, PhD '19
"I was in that bed, lying there getting chemotherapy. I was downstairs getting radiation. You know, I had the worst day of my life here too. It means a lot to be able to look at somebody or hold somebody's hand, or take care of somebody and genuinely say, I know what you're going through."— Hannah Dreischmeier '19
"There are 3.8 million nurses in the United States, and only 2,700 are Fellows in the American Academy of Nursing. I am deeply honored to now have the initials FAAN after my name." — Dr. Linda Young, PhD, RN, CNE, CFLE, dean, College of Nursing and Health Sciences, UW–Eau Claire
"The frontline nurses are the real heroes in all this. I think of them as humanitarian rock stars. They are willing to put their lives on the line for a disease we know very little about."— Beth Sommerfeldt '81
"If you don't have sufficient faculty, you can't maintain or increase your class size and it's critically important that Wisconsin has enough nurses to care for the citizens of Wisconsin." — Barbara Pinekenstein, professor, UW–Madison School of Nursing
"It's necessary to really understand the legacy of historical trauma that has happened. There's a lot of stigma and assumptions." — Jeneile Luebke, MSN, UW–Madison School of Nursing
"It's a crisis on top of a crisis." —Barbara Bowers, PhD, RN, FAAN, professor and associate dean for research, UW–Madison School of Nursing
Geoffrey Watters earned his doctorate in nursing practice from UW–Madison this spring. He's feeling confident about job prospects, but others in his specialty of psychiatric nursing are struggling, especially in outpatient care.
Marking National Nurses Week 2020 and the bicentenary of Florence Nightingale's birth, nurse advocates and leaders from across the U.S. meet to celebrate the nursing profession and discuss many topics, including its diversity, future aspirations, and their nursing heroes. Panelists include Mary Behrens '64, member, Board of Visitors
From hospitals to nursing homes, health care workers are delivering exceptional physical and emotional care during the coronavirus outbreak. However, many of those workers, including nurses, are facing extreme fatigue, which may lead to a wave of retirements and a near-term nursing shortage. That was the message from Barbara Pinekenstein, a clinical professor in UW–Madison's School of Nursing, during a recent UW Now Livestream.
UW Health called on retired nurses to help answer the phones of the new COVID-19 hotline, including Beth Sommerfeldt '81.
"Linking public health professionals and researchers is what we strive to do through WPHRN. Providing information to our members about this rich new resource developed by researchers and tailored to answering questions public health professionals have is one way we are trying to support the public health community during this pandemic and beyond." —Susan Zahner, Wisconsin Public Health Research Network co-chair and associate dean for faculty affairs in the School of Nursing
Fifty years ago, Dwayne Dobschuetz earned his BSN from the University of Wisconsin in Madison, just a few years after the school opened its nursing program to men. But his path to nursing took a few detours, and he didn't join the profession until 19 years later.
Due to the large inflow of patients infected with COVID-19, the Wisconsin Nursing Board took emergency measures to add retired nurses, nursing students close to graduation and nurses licensed in other states to hospitals. Dean of the University of Wisconsin Nursing School Linda Scott said in an email to the Herald, while these measures might help during the pandemic, they won't solve Wisconsin's nursing shortage — a persisting problem.
The nursing shortage has been a historic problem, said Linda Scott, dean of UW–Madison's School of Nursing. What's particularly problematic in this case is that there aren't enough nurses nor are there enough educators to train future nurses. And many of those educators will soon retire. Add in an aging society and the pandemic and it's a new crisis for the nursing field.
Our Nurse of the Week is Marcela Hanson, a senior nursing student at the University of Wisconsin–Madison who used her time during the COVID-19 pandemic to help others. After being barred from all in-person healthcare settings, Hanson and other UW–Madison nursing students found a way to help their local healthcare professionals through crowdsourcing.
"This has been something that they have worked hard for, and they want to be able to deliver the care that they've had the education for. We're going to do everything possible to make sure that that happens." —Linda Scott, PhD, RN, NEA-BC, FNAP, FAAN, dean and professor, UW–Madison School of Nursing
"The nursing lens has great relevancy in the board room because nurses are trained and expert at accepting the environment, working in teams, collaborating with others, and solving problems amid complexity." —Laurie Benson, BSN, UW–Madison School of Nursing
Five research teams will receive a total of $100,000 through the NCAA Innovations in Research and Practice Grant Program, designed to enhance college athletes' psychosocial well-being and mental health. Among the five is Data-driven "return to learn" support for concussed athletes, co-directed by Traci Snedden, PhD
"The collaborative spirit in the county and how people up here know each other—they just approach how they do things from that perspective." —Peggy Zimdars, board of visitors, UW–Madison, School of Nursing
The flexibility of the school's online nursing program is ideal for nontraditional students such as Dietrick, who came to UW-Madison last spring with an associate's nursing degree, a full-time job at St. Mary's Hospital, a part-time job with the Wisconsin Air National Guard and two young children in tow.
Cassie Dietrick, of DeForest, Wisconsin, kept her schooling going through challenging circumstances. While deployed to Afghanistan as a tech sergeant in the Wisconsin Air National Guard from July to November of this year, Dietrick completed five courses through BSN@Home. … While studying in Afghanistan, Dietrick performed maintenance on a flight line seven days a week for 12-hour shifts. Back home, she's the mother of two young children and volunteers as a Basic Life Support instructor for the Air Force Base at Truax Field in Madison. After graduation, Dietrick will continue working as a nurse at St. Mary's Hospital in Madison.
Working in Wyoming where there are only two humans per square mile (on average), nurse practitioner Mary Behrens, MS, FNP-BC, FAANP provides vital health care capacity to mainly rural populations. In this podcast she describes the role of the nurse practitioner, a discipline that is growing rapidly.
The trip to Monroe Clinic's main campus was an opportunity to celebrate Monroe Clinic's collaboration with UW-Madison on the Rural Placement Program for nurse practitioner and doctor of nursing practice students. … The number of former Rural Placement Program students working at Monroe Clinic accounts for 25% of Monroe Clinic's total APP [advanced practice providers] workforce.
"They're loud. For some patients, it's frightening. They don't know where it's coming from. It's a source of irritation." —Barbara King, PhD, RN, APRN-BC, FAAN, Assoc. Professor and Center for Aging Research & Education Director, UW–Madison, School of Nursing
"I was always interested in health science, but there was a moment in the hospital where I looked at what the nurses were doing and how they were caring for my son and our family." —Elizabeth Arth '19, BSN, UW–Madison, School of Nursing
"If we think that a patient walking is a patient who will fall, we have to shift that culture." —Barbara King, PhD, RN, APRN-BC, FAAN, Assoc. Professor and Center for Aging Research & Education Director, UW–Madison, School of Nursing
"The School of Nursing, for example, regularly engages the students in discussions about climate justice and environmental stewardship. I know that Linda Scott, who is dean of the Nursing School, has been particularly proud to hear from clinical sites that our students are coming in and educating the professionals at those sites about sustainable practices." — Chancellor Rebecca Blank, UW–Madison
"I think I've gotten a lot more out of my job than I've ever given to any of my patients. I see some of the strongest, most beautiful people in the entire world every single day, and I get to take care of them." —Bridget Ravis, BSN UW–Madison
"As a black woman, college-educated, and middle-income, the birth outcomes are still comparable to a white woman who is not college-educated and who is low-income. That disparity is really sad."—Rachel Azanleko-Akouete, MPH, BSN UW–Madison
"We see if we can connect people to existing resources that may put them in a better social situation."—Andrea Gilmore-Bykovskyi, PhD, RN, Asst. Professor, UW–Madison, School of Nursing
With Pam McGranahan, DNP, RN, Clinical Asst. Professor & DNP Program Director, UW–Madison, School of Nursing
With Traci Snedden, PHD, RN, CPNP, CNE, Asst. Professor, UW–Madison, School of Nursing
By Traci Snedden, PHD, RN, CPNP, CNE, Asst. Professor, UW–Madison, School of Nursing
"We're nurses, we are like the postal service, we're here no matter what for you at your time of need. And they are and that's great, but it's a double-edged sword."—Linsey Steege, PhD, Assoc. Professor, UW–Madison, School of Nursing
"There's no way to have this conversation without calling out the elephant in the room — that this is a female-dominated profession." —Gina Bryan, DNP, RN, Clinical Professor, UW–Madison, School of Nursing